International Corporate Health Leadership Council (the Council), was established in 2012 as a first-of-its-kind think tank. The Council is made up of the most senior leadership in corporate health with one goal in mind: to drive standards and policies that result in reducing risk and improving the delivery of healthcare to international travelers, expatriates (and their families) and employees in emerging markets, wherever they may live or work.
The Council operates under three fundamental holistic pillars: PEOPLE, PLACE and PURPOSE.
PEOPLE 
Utilizing trends in the workforce demographics to address efforts that will improve employee wellness, reduce medical risk, and ultimately have a positive impact on productivity.
PLACE 
Highlights health risks specific to workforce geographic locations and identifies the unique requirements needed to support the health of a globally mobile workforce. 
PURPOSE 
Focuses on how corporate health can define your mission, as well as your ethos. 
Webinar Resources: Thursday, November 16, 2017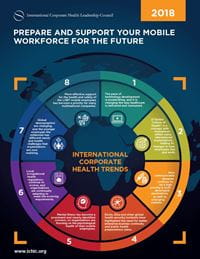 On Thursday, November 16, 20171 the International Corporate Health Leadership Council showcased the recently launched 2018 International Corporate Health Trends: Prepare & Support Your Mobile Workforce for the Future.
The Council discussed key trends around global well-being, business continuity, public health preparedness, and emerging challenges for organizations. Download the resources here: